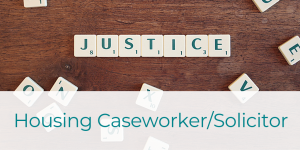 Housing Solicitor/Caseworker
We are recruiting a Housing Solicitor/Caseworker to join our small, friendly, team. A willingness to undertake other areas of law e.g. Community Care is an advantage.
This is an exciting opportunity for a committed and enthusiastic housing solicitor/caseworker to join our team. We are looking for someone who is fired by our ambition to assist people in need and who shares our values. A successful applicant must be willing to work hard, be imaginative, flexible, willing to extend their current skill set and above all, wants to make a difference.
About Us
Luton Law Centre was formed in 1989. Since then, we have been providing members of the local community with specialist legal advice. We are a small team of committed and passionate social welfare lawyers and caseworkers and are part of the Law Centre Network, which as a movement specialises in providing advice, casework and representation to the most disadvantaged members in the community.
We run a wide range of Housing  cases covered by Legal Aid including a significant amount of representation work as part of the Housing Possession Court Duty Scheme. Our Housing Caseworkers also provide advice through our specialist telephone advice line on a rota basis.
About You
The post-holder(s) will be responsible for delivering our Housing  Legal Aid Agency contract, participating in the rota for the Housing Possession Court Duty Scheme, and for providing advice through our specialist telephone advice line.
We are seeking a candidate who can offer 35 hours per week. We are open to a jobshare and/or a certain degree of flexibility. Applicants should have a minimum of one year's experience of Housing law  – but does not necessarily need to be a qualified lawyer. Some training may be provided on the job.
Salary
The salary offered for this post is £25,000 - £28,000 depending on experience and qualifications.
Closing Date for Applications
Closing date for applications, 12 noon, Tuesday 28th May 2019
Interviews
4th June 2019
How to Apply
You can download the Information Pack and the Application Form from the left of this screen. Alternatively, you can request the documents by email to pgilson@lutonlawcentre.org.uk or telephone the office on 01582 482000.